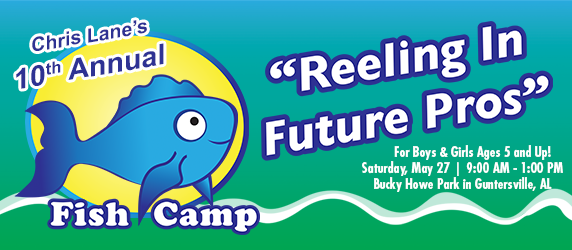 Chris Lane's 10th Annual Reeling in Future Pros – May 27th, 2017
Fishing Camp for Boys and Girls Ages 5 and Up
9:00 a.m. to 1:00 p.m.
$30 Per Participant
Bucky Howe Park in Guntersville, Alabama
Day of fishing and instruction with Chris Lane and several Elite Series anglers.
Seminars
Hands On Stations
Casting & Fishing Contest
Every Participant Receives a Tackle Kit to take with them
Lunch Provided by Tony Cachere's
Chris Lane's experience in the Bassmaster Elite Series, along with other tournaments, benefits children in so many special ways. He has been a professional since 2000, but it's the memories of when he was a young boy having family tournaments with his dad, grandfather, and brothers that were so important to his development. Now, Chris Lane is creating new memories with children in his Fishing Camp.